"Just a boy with a Big Dream" reads his Twitter and YouTube handles. Joely White can be described as a voice actor and a web video producer with a sweet personality and an unimaginable number of followers on TikTok, Snapchat, YouTube, and Instagram. A perfect example of an authentic influencer from a young age, he is always seen as his natural, humble self challenging crowds with the power of kindness.
The social media star from Frankfurt, Germany first became popular on Musical.ly App. He often teams up with her sister Chany Dakota who is also a one-of-a-kind music star and influencer. The two collaborate on their productions and projects in the wonderful, colorful world they've created for themselves and their followers. With an appreciating and loving community around him, Joely continues on his path to his dreams and to becoming a mega-idol!
Born in 2001, as natural as he is, Joely White always cared for his appearance. His love of pink color and outstanding outfit choices reveal that he may soon become a fashion icon alongside being an influencer. He is bold in a soothing way, always positive, and shines bright as seen on his colorful, joyous Instagram account.
Recently, Joely visited Heva Clinic in Istanbul, Turkey to improve his looks by getting a hair transplant. As the popular and evident choice of many influencers, sports professionals, and celebrities, the staff, and surgeons at Heva Clinic were delighted to meet with sweet Joely. Joely is indeed excited that the procedure will help him achieve "his best self" when he returns to TikTok and produces videos in his forthcoming endeavors.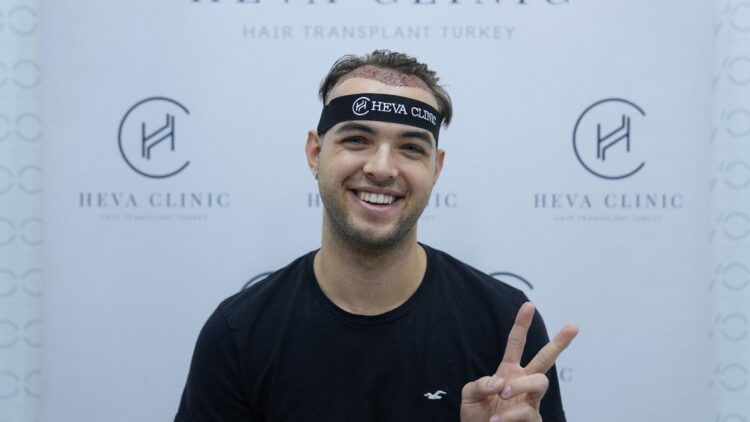 It is not uncommon to see Joely White's age group choose to go through a hair transplant procedure sooner rather than later. In fact, what's a better age than your twenties to look your best? Sympathetic and delightful as a guest at the Istanbul clinic, Joely certainly returned the hospitality, welcome, and professionalism with much appreciation.
For those curious about the exact choice of procedure applied to Joely White; after a consultation with his surgeon, it was mutually decided that the No-Shave Ice FUE method suited him the best.
Ice FUE hair transplant stands for Follicular Unit Extraction and happens to be the most successful hair transplant method with the fastest recovery rate. FUE method also doesn't leave any scars after complete healing is achieved. By nature, the FUE hair transplant requires the head to be shaved for the surgeon to work effectively and to reduce the risk of any post-transplant infections.
A no-shave FUE however, is a more complex treatment that should only be performed by top surgeons with years of hands-on involvement. Although it is theoretically feasible to execute an FUE hair transplant without shaving the patient's head, this approach is not appropriate for all patients. A no-shave FUE is a much more sophisticated and time-consuming treatment, thus it is often only used to address a limited region of hair loss.
It was however a suitable choice for Joely, who, at a young age with minimal areas to cover, took advantage of the latest technology and skilful surgeons at Heva Clinic in Istanbul, Turkey.
In advanced hair transplant clinics such as Heva, your hair density is examined under a microscope. They can determine how many hair follicles are available for transplant in your donor area and select the optimal hair transplant process for the greatest results.
View this post on Instagram
You may also be surprised to know that an all-inclusive hair transplant package offered at Heva Clinic is significantly less expensive than just the hair transplant itself in Western Europe or the US. While most hair transplant clinics provide comparable packages and prices, keep to your goal of choosing the most suitable and professional clinic that makes you feel understood and that can address all of your questions before the procedure.
Turkey, being a top destination in hair transplant surgeries, is home to numerous clinics offering similar treatments. Hair transplants were mostly regarded to be dreadful, but modern medicine, skilful surgeons, and happy clients like Joely White are changing this stigma. With the professional support and friendly approach at clinics like Heva, things can turn this into a smooth and joyful experience worth the journey.