Jumpsuits are cool and you can wear them anywhere. But of course, you have to mind the style. With jumpsuits, you don't have to worry about your look. You will get the perfect finishing touch while being in one piece. So if you are not sure what to wear for an event, you can go in a jumpsuit. It won't disappoint you.
As we have said before, you have to mind the style. You can find cotton and denim suits that are for everyday wear. You can wear them while going to school or the office or hanging out with friends. However, you cannot wear them at events like birthday parties. If there is a wedding or party, you can find fancy jumpsuits that are suitable for the occasion.
1. YuanBang American Flag denim romper jumpsuit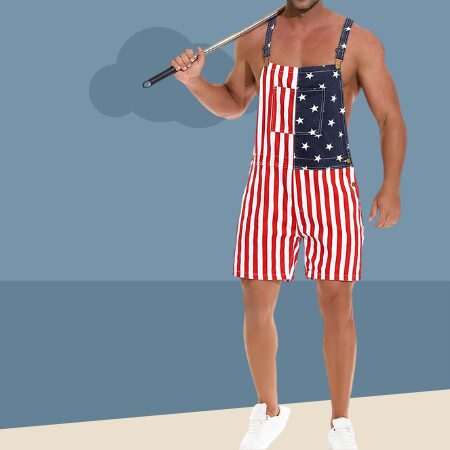 Summers make you wear limited styles. It's hot out there and if you are going out, you will need something that does not make you feel the heat. Therefore, this American flag-style romper is suitable for summer. It has a sleeveless design with shorts. So, you can wear it with a crop top or a t-shirt.
Moreover, the design is suitable for both men and women. So you do not have to mind it. However, you should check the size chart so that you can get your perfect fitting. This jumpsuit has 95 percent cotton and 5 percent viscose. Therefore, it is suitable to wear as a casual style. You can wear it while traveling, doing sports or even going to the beach.
The same jumpsuit is also available in pants style. So you will have the option to choose from shorts and pants. Furthermore, you will have 6 different designs to choose from. So you will have plenty of options here. And if you are thinking about pockets, you will get that too. There are multiple pockets in the romper so you can keep your belongings in it.
2. The drop women's sleeveless wrap-style jumpsuit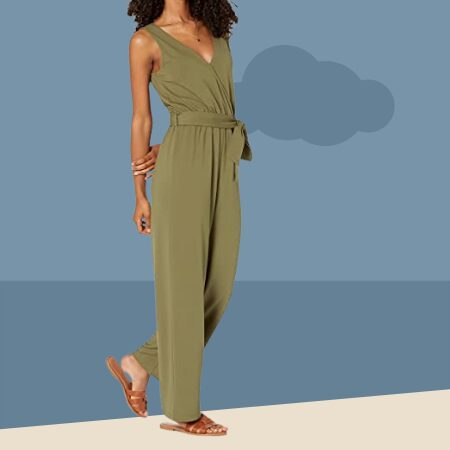 This is one decent style jumpsuit that you can wear even at formal events. So whether you want to attend a business meeting or you have a plan to hang out with your friends, this one will go well at both. But it is not limited to this only, you can comfortably wear it anywhere while traveling or while on vacation.
The best thing about this jumpsuit is its material. It is a bit stretchy and therefore, it will provide the perfect fitting for different body types. So if you have a pear-shaped body, it would be difficult for you to choose something that suits you. However, with this Drop jumpsuit, you will get your perfect look. You will have the size chart and the body measurements of the models too. Thus, you will be able to make sure that you get your perfect fitting.
However, you have to be careful about one thing. This jumpsuit has a very low-cut design. So if you have to wear it to your office, you need to do something about it. But still, the fabric is comfortable to wear during summers. So you can use a magnetic pin or a DIY hack to cover the low cut for formal events. Moreover, you also won't get any pockets here.
3. Lincox sleeveless racerback harem style jumpsuit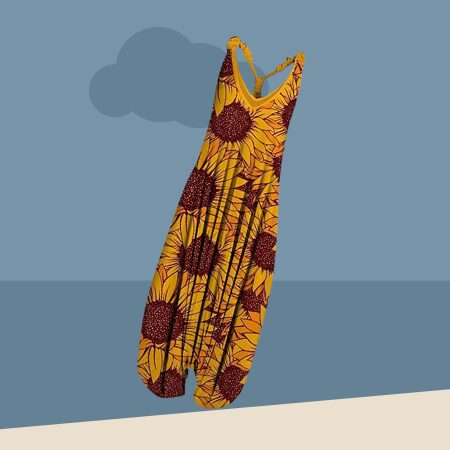 This jumpsuit is an all-in-one thing. It has a harem-pant style along with a racerback. It is simply perfect as a lounge-wear and if you leave the home in an emergency. Are your family or friends planning to go to visit the countryside? This will be the perfect thing to wear during summer. The material of this jumpsuit is cotton and spandex and therefore, you will feel comfortable.
In addition to the attractive style, you will have various different designs to choose from. So if you are finding a floral pattern, you will get that here. And if you want to get something different like a simple pattern or soft colors, you will get that too. So fill up your wardrobe with different styles and rock this summer.
But again, there are no pockets in this jumpsuit. Therefore, you have to carry a bag while going out. But it still won't be that bad of a deal. As long as you find the style and design attractive, you can compromise on pockets. Furthermore, you will have a detailed size chart. So make sure that you check the details before placing your order.
4. Women's summer wide leg jumpsuit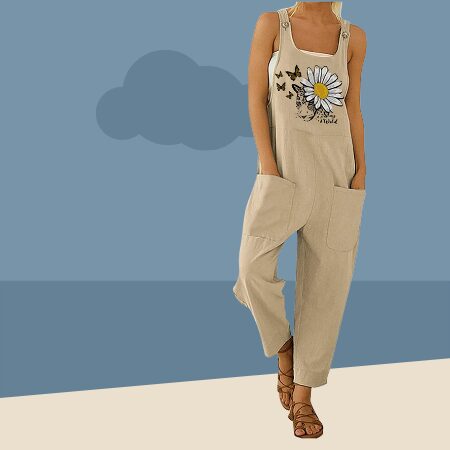 The last one on our list is this simple yet decent and cute jumpsuit for summer. You will get 3 different color choices that are khaki, blue and olive green. The design is also quite attractive as it buttons from the shoulder straps. In addition to this, you will get two front pockets. So you can keep your mobile phone and keys or other belongings in there.
And because the top design is sleeveless, you have to wear a short underneath. So it depends on what you choose to wear but it will go well with white tops. The legs are also quite wide. Thus, you won't have to worry about getting a tight-fitting. It offers loose-fitting and this makes it suitable for summers. You can wear it as daily wear or while going on a vacation or a fun trip. And if you are resting at home, this is the best lounge-wear too.
The material is 100 percent cotton. Therefore, it will absorb sweat and won't get stuck to your skin. Furthermore, cotton is a skin-friendly material. So if you have sensitive skin, you can wear this jumpsuit comfortably. And you will also get a detailed size chart. So make sure you check the length, waist, hip measurements and then confirm your size. In this way, there won't be any problem with fitting.