Your wedding is going to be one of the biggest days in your life, and a completely new chapter starts right away. For that day, all brides are preoccupied with the big things, as well as the small details, and most of us just think about how aesthetically pleasing everything is going to be. We try to color-coordinate, create a theme, make sure there is a proper flow, and we want everything to be picture-perfect.
However, you need to take care of the comfort as much as you do about the aesthetic and when it comes to what you wear, you have to pay extra care to those things. The shoes you wear will either help you enjoy the special day, or they are going to make you feel uncomfortable for all the hours you spend in them. Here, we are going to list some tips that are going to help you make sure that your wedding shoes are comfortable.
1. Choose a good material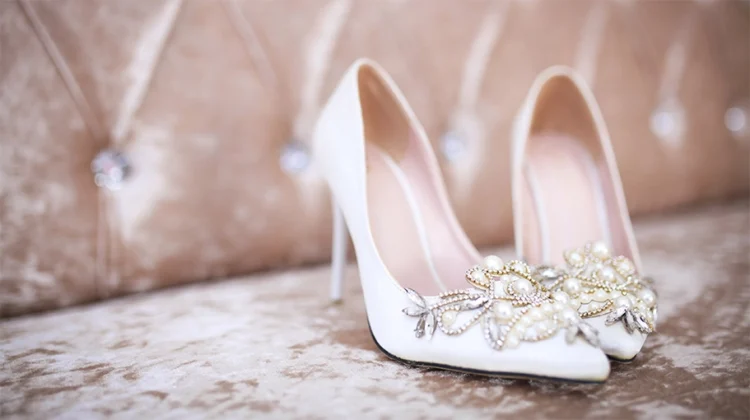 The first thing that you need to pay attention to is the material that the shoes are made of. There are many different fabrics and types that go into the creation of your wedding footwear, and now is not the time to try out new things or go with materials that are not good for your feet. Opt for high-quality and preferably leather, or go with something similar that is going to be comfortable, durable, and is going to look class and stylish.
2. Don't wear too high heels
As brides we want to show the best version of ourselves on the big day, and that usually means that we want to elongate our legs, we want to show off our skills in walking in high heels, and we want to look like we are celebrities on the red carpet. However, unless you've spent half your life on high heels, chances are, you won't be able to withstand the whole night and the dancing, so go only with the size of the heel that you feel okay with. An inch or two won't make a difference to your style, but it will make a huge one in your comfort.
3. Pay attention to the size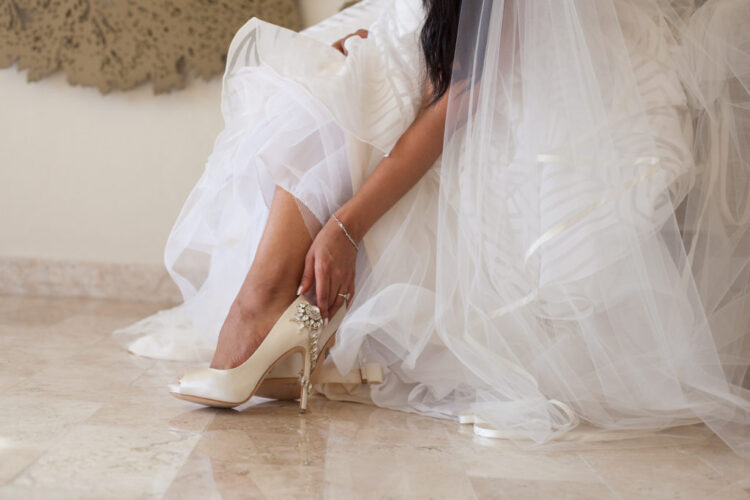 The size of the shoe is going to make the difference between you dancing the night away, and feeling uncomfortable all day long. It is said that the best time to do footwear shopping is in the evening or after you finish work so that your feet are already tired and potentially swollen.
Your feet are not going to be rested on your big day, and you need to choose the right shoes to support them. If needed, consider getting half or even one size bigger, so that as you get tired, and as you spend too much time standing, that won't affect the comfort.
4. Make sure you purchase from a trusted store
Have you ever done deeper research on how comfortable the biggest brands are? Most businesses that make billions of shoes usually offer stunning models that are extremely difficult to walk in, so when choosing your bridal footwear, opt for items that are made to be comfortable, not only items that look beautiful. When choosing the right pair for you, opt for a trusted store that takes pride in comfort as much as they do in style, and never purchase a pair just because it looks wonderful.
If you want to get an idea on bridal shoes and if you want to check a beautiful collection out, visit https://dreampairshoes.com/collections/wedding-shoes.
5. Opt for straps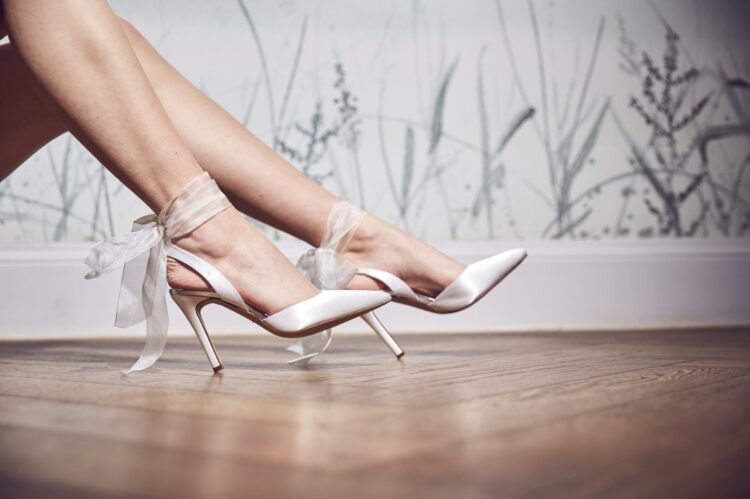 Sandals are in, and especially in the summer season, brides want their feet to be as free as possible, and not confine them in closed shoes that will not let their skin breathe. If you want to go with sandals or any other type of open shoes then you should choose straps. They are going to make your legs look better, they are going to promote healthier movement, and they are going to keep your ankle in place.
On the same note, when choosing sandals, opt for a slightly wider heel so that you get that additional support and stability. When you combine straps and a chunky heel you will end up with beautiful looks and comfort.
6. Choose a platform if you want high heels
As we mentioned, you should steer away from wearing shoes that are too high heels, but if you don't want to give that idea up, and if it matches your personal style, then you can just opt for platforms.
You should choose footwear that has at least a half an inch platform that is going to support your foot, make the shoes much more comfortable, and easier to dance in. Some models feature hidden platforms, so if you don't want the guests to know that you are using this cheat code, you can easily conceal it and make it look like it's just extremely high heels.
7. Walk in the shoes before the big day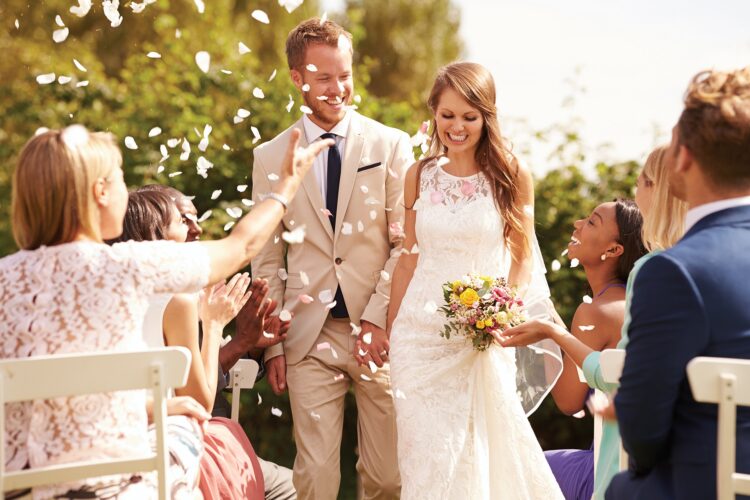 When trying on your bridal footwear, make sure that you walk in the pair at home before your big day. If you choose to order online, try to wear them for at least an hour or two in your own home, and see how your feet react. If you feel uncomfortable; if your legs are in pain, and if you can feel any blisters or wounds forming, chances are, you need to get a better pair. Don't skip on this step and know that it is better to return your footwear and get a better pair than to risk being in pain all day long.
Have these things in mind when choosing your bridal shoes and know that it is better to try different models out and give them all a chance, than wait until the last day and be forced to choose something that is not good for your feet. Remember that style is important, so stick to your desires and your preferences. Today, there are so many different models and brands that offer bridal footwear, so don't give up until you find the pair of your dreams.