Having yoga pants in your wardrobe can be of great help to you. And it becomes a necessity if you work out at your home or go to the gym. Whatever the situation, you will need them to work out. And not only that, you can even wear them at your home. They are quite comfortable sitting and walking around. Yoga pants are not only for zero-size people as it seems. They are available in every size and different styles.
If you want to look at the different types of yoga pants, we have a list for you.
1. Tarse Wide-leg yoga pants with pockets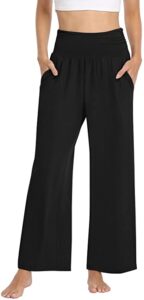 These are the perfect pants that you can use to do yoga and use as loungewear. They are flowy and wide. Therefore, you only need to look for the right waist before buying them. And for the waist, you will have an elastic closure that will give you a perfect fit. These pants are available in 7 different colors. So you will have a variety of choices to choose from.
The material of these pants is spandex and polyester that makes them activewear. Because it provides elasticity and stretches to the fabric. Thus, they won't rip apart even if you do yoga while wearing them. So you will have a range of poses to perform. Furthermore, it also gives you the surety to wear them for a longer time. You can wash them and wear them and repeat them for a long time.
And what makes them good for other events? Of course, the style. It goes well with t-shirts and cardigans. It can be your outdoor dress too. You will also have two pockets on each side. So you can keep your belonging there while going out. Thus, it makes a perfect outfit for working out and also for going out with friends. You can make a casual outfit from it.
2. Zenana Premium Cotton flare yoga pants


The next one on our list is these Yoga pants in flare style. So if you are looking for a change in your wardrobe and you want something that won't become a waste if you are not working out then these are the ones. You can wear them while working out and also when you are going out. The flare style makes it trendy that can go well with different shirts.
In addition to the style, you will also get a variety of color options to choose from. So if you already have a lot of pants in black and you do not want them, there are other options available. Furthermore, the stuff is 5 percent spandex and 95 percent cotton. Therefore, they are best for different seasons. They won't stick to your skin if you are sweating.
Furthermore, you will have a range of size options. So if you want a plus size, you will get that. No need to worry about that. The high waist makes them comfortable to wear even with crop tops. Thus, they give you multiple options of styles. Pair them with a t-shirt or a cardigan and get your comfy outdoor look.
3. Amazon essentials women's studio slim bootcut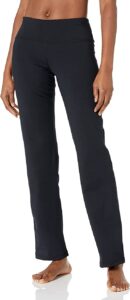 And if you do not want a flare or a bell bottom, you can have the bootcut option too. Isn't it the best thing in yoga pants? You will have a slim fit at the top and despite that they are stretchable. So while you are working out or you are performing yoga, they won't tear you apart. The flexibility will give you room to perform the new poses. As it contains 16 percent spandex and 84 percent polyester.
And the bootcut? It makes them look like pants despite the slim-fitting at your waist and thighs. They will fit snuggly at your thighs and hip area. Furthermore, the elastic waistband gives you the perfect fit even for people with low waists. The lightweight material makes them comfortable to wear for longer times. Even if they are in fitting, they won't make you uncomfortable.
The most interesting thing about these pants is the concealed pocket in the waistband. You can keep your mobile phone or keys while going out for a run. Or even if you are going out for a casual walk, you can keep your belongings safe. Not only that, the stuff is safe for machine wash. So you can wash them easily and no need to take special care of them.
4. 3 pack women leggings from FULLSOFT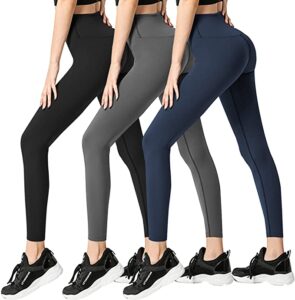 How can we complete the list of yoga pants without mentioning the leggings? So here they are. The yoga leggings from FullSoft.
These leggings give you a complete snug fitting. So you can watch your leg movements carefully. These pants are especially good for beginners. They come in a set of 3 in different color options. So you can wear them for the whole week without the need to repeat them. Moreover, if you could not wash them on time, you will still have other leggings to wear.
In addition to this, these leggings have a high waist style for tummy control. Therefore, it will keep your bulging body in control. The fabric is comfortable to wear and it will go smoothly along with the contours of your body. The material is 8 percent spandex and 92 percent polyester. Thus, it gives a complete stretch to the leggings. Even with the snug-fitting, the leggings won't rip apart.
Another thing that people worry about is the see-through material. A lot of leggings that fit perfectly are see-through. It is not because of the material but rather because of the elastic stretch. The more the material stretches, the more it might become see-trough, therefore, Fullsoft has worked on this feature and made their pants no-see-through. So you can wear them comfortably. And if you want, you can pair them with t-shirts and wear them outside.