Getting a youthful-looking face is a wish for almost everyone who is in their 30s and 40s. However, aging signs are not a problem for elders only. If you are in your 20s and are getting fine lines, then your skin is in need of proper care. In the early 20s, our body regenerates new cells quickly.
Therefore, we do not realize if we have bad eating or sleeping habits.
[
amazon
table="154693″]
However, with time, and after we cross 25, the cell growth of our body starts to deteriorate. This is the time that we realize that our skin is having fine lines. And you might also see crow's feet on the edges of your eyes. And some might even get wrinkles. This is all because we could not take better care of our skin.
So now the best thing that we can do is to use serums. They are created with special formulas that regenerate new cells and lock in the moisture content. Thus, our face looks plump and radiant.
Here is a list of the best serums that you should give a try to.
Best Anti Wrinkle Skincare Products Celebrities Use
1. Ganjika Anti-Aging Serum – Hemp Oil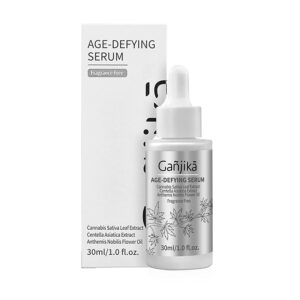 This is a completely unscented anti-wrinkle serum from Ganjika. So if you do not like synthetic perfumes in your face serum, you will surely love it. It is suitable for all types of skin.
So whether you have oily, dry or combination, or sensitive skin, it will suit you all. No need to worry about sensitivities. However, if your skin is too sensitive or you have a skin problem, you should definitely ask your dermatologist.
It has all the powerful moisturizing and age-fighting components that will replenish your facial skin. The cannabis Sativa leaf extract will be responsible for the anti-aging effect.
Likewise, the Centella Asiatica extract will go deeper into the epidermis and dermis layer. Thus, you will get treatment in the deeper layer of your skin.
The lightweight texture of this serum will absorb quickly in your skin. Furthermore, the moisturizing effect will last for around 24 hours. So you do not have to worry about dry skin.
2. Neutrogena Rapid Wrinkle Repair Serum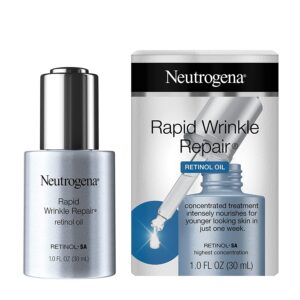 When in doubt use Neutrogena. This is the simplest formula that you can apply to yourself. Almost all of their products are dermatologically tested. Therefore, you surely won't face any problems. This serum is designed especially to deal with wrinkles. Unlike other serums, it has an oily consistency, not gel-like.
The major component is 0.3 percent concentrated retinol which is known to deal with various skin issues. It reduces fine lines and wrinkles by penetrating into the deeper layers.
In addition to this, it will also deal with your acne and dark spots. So to say it simply, you are getting a complete package to enhance your looks.
Add this to your skincare routine and get amazing results in a short time. Its continuous use on a daily basis will make you feel happy every time you look at yourself in the mirror.
3. CeraVe Anti-Aging Retinol Serum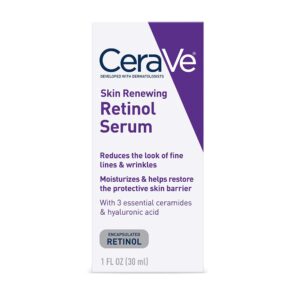 CeraVe products are getting quite a fame. And their anti-aging serum is surely among the best ones. It is especially for all those people who look for unscented products.
This trend is becoming common too because scents feel like something synthetic added to the product. So CerVe has surely met the demand so fits customers. So this one is scent-free.
The most amazing thing about this serum is that it is made from their special patented MVE technology. It replenishes the skin and deals with various issues and the results are long-lasting.
So who would not like that? All we want is to get our youthful looks for a bit longer and then longer. But oftentimes, when we stop using a certain product, we no longer get the results. But this is not the case here.
This CeraVe anti-aging serum will deal with your problems and the results are long-lasting.
The major component of this serum is ceramides 1, 3, and 6. All these work as the defense layer of our skin. Therefore, their major technology is to use retinol to deal directly with skin issues while ceramides will provide protection.
In short, your face will heal and will also get a protective layer that will prevent further damage from external sources.
4. Tree of Life Retinol Anti-Aging Serum

Unlike famous brands, this serum from Tree of Life is quite a hit on the market. This clearly shows its capability to deal with your facial issues.
It is a revitalizer, as it deals with fine lines and wrinkles and gets rid of the signs of aging.
Furthermore, it will make your skin look fresh and bright. And would you mind getting rid of the dark spots? Yes, it will do that too. So you are getting an organic product that will heal your skin and bring back the youthful look you desire.
The major components of this serum are retinol, vitamin C and E, and Hyaluronic acid. All of these are well known for their healing and moisturizing effects. Furthermore, they will also penetrate into the deeper layers to make your face look firm and plump. Moreover, the effects will be long-lasting.
Are serums really too moisturizing?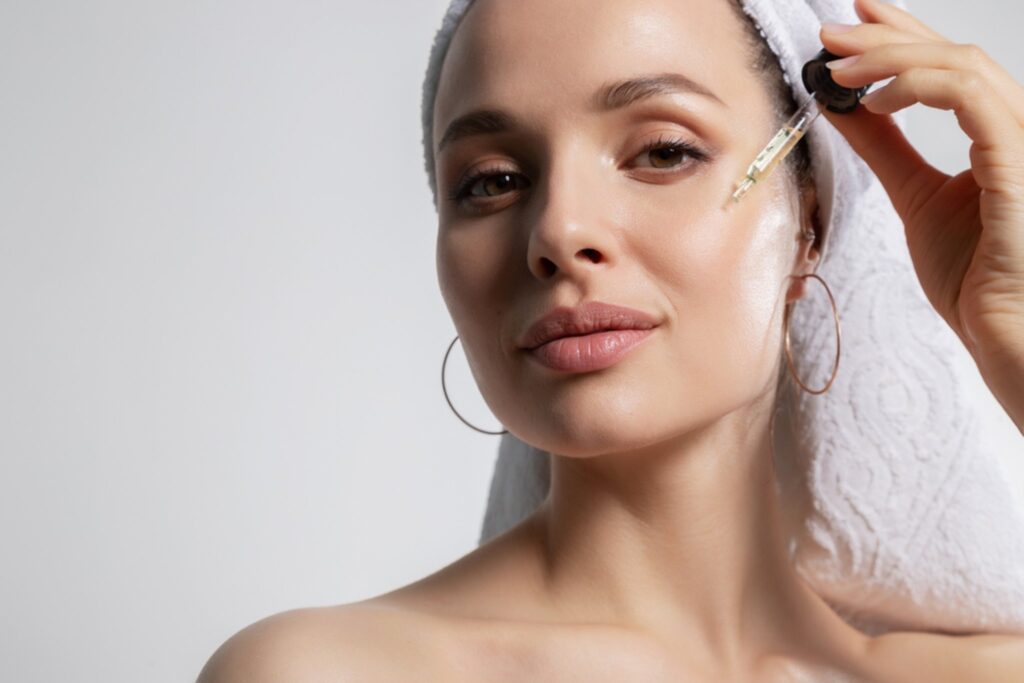 This is actually not true. To understand the whole thing, you need to clear your concepts about moisture. Nothing can beat thick moisturizing creams in terms of moisturization. So what is the deal with serums?
Although serums are not much moisturizing they are good enough to deal with our problems. If you are observing fine lines and wrinkles, serums can get rid of those.
Moisturizing creams work only for the prevention of dryness. Although moisture content will get rid of some problems like wrinkles and fine lines but not all.
Therefore, for dealing with multiple skin issues and to get plumper, soft and firm skin, we use serums.
Check this also:
[amazon box="B07V57J154,B08VDX8SRQ,B09FLR3H3X,B013RJ8804,B013RIOOFS,B07QB96GW9,B00LIBJ7U4,B08W2NK6NJ,B08C5PHRM1,B07XC2WH7H"]